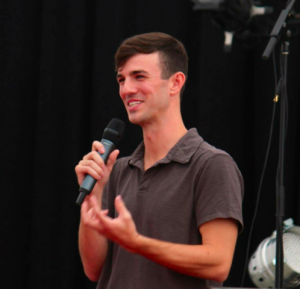 Brian Burchik, author of #LiveFully, is a passionate communicator who teaches deep, biblical truths in a clear, refreshing style so you can grab hold of the full life Jesus offers.
It's crucial for outside communicators to honor the leaders that walk day in and day out with those listening. I will do all I can to serve the ministry/organization for the greatest impact possible.
To learn more about the #LiveFully Experience, click logo below…

MY MOST REQUESTED TOPICS
#LiveFully: Reimagining the Greatest Calling on Earth
Identity in Christ: Who am I?
Discipleship for the Next Generation
Finding Your Calling
For more on booking for your program, just
send me an email.
 What Others Are Saying
"Brian Burchik is one of the most gifted Gospel communicators our student ministry has ever heard from. Brian's message to "Live Fully" has been etched into his heart by the Spirit of God and he urges teenagers to live a full life in Jesus with reckless abandon. The words of Christ have taken root in the hearts of our teens like never before thanks to his clear teaching style and use of relevant illustrations. Some guys are just naturally gifted speakers and some have the Spirit of God on their ministry. I would say Brian has both."
Jason Mangrum, Student Pastor – Cross Point Baptist Church

"Brian has a gift for connecting with students and bringing the life-giving words of Jesus to their ears in a fresh way. It's been a privilege to watch him speak and lead students into the full life of walking with Jesus in his kingdom."

Andy Cornett, Youth and Family Pastor – Signal Mountain Presbyterian

"Brian Burchik's message of #LiveFully will challenge your students to not put Christ at the forefront of their life, but instead to allow Christ to permeate every aspect of their life, so that they can bring Heaven to Earth in their community."
Travis Graham, Student Pastor – Mars Hill Baptist Church

If interested in booking me for your event, just email

 

Livefullyblog@gmail.com