We have all asked ourselves, "What is the secret to a more satisfying life?" But let's face it, finding satisfaction isn't easy. There are thousands of guides out there, all with 4 step plans, 10 objectives, and 101 ideas for living a more satisfying life.
But what if it could be simpler? What if there was really only one necessary thing?
About this Book:
I've always wanted to be a better Christian.
Jesus said, "I have come that they may have life, and have it to the full." I wanted that full life, and so I worked pretty hard to experience it. I figured the better I was at being a Christian, the more satisfying my life would be.
I thought being a good Christian meant following all the rules. I was WRONG.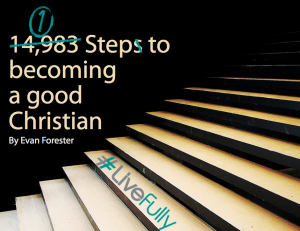 I wasn't wrong about everything. Being a strong Christian does lead to a richly satisfying life. But my methods were completely bogus.
In this short eBook, I outline my old thinking, and demonstrate how God changed my view on the key to being a good Christian and enjoying the full life. If you want to grow closer to God, this book will help you clear out the distractions and focus on what matters most.
How to Get Your Copy:
There are two easy ways to get this eBook. First, you can purchase it for $2 in our store. If you are like me, however, and prefer things that are free, we'll give it to you! All you need to do is join our e-mail list. As a huge bonus, we'll even mail you a free #LiveFully sticker! To join the e-mail list, simply enter your e-mail below and be sure to open the confirmation e-mail so you can get your free stuff.
[ois skin="Inside Post"]
Share Your Thoughts:
One of my goals with this book is to be a conversation starter. I really want to hear your thoughts on this eBook. I highly recommend you share them in the comments below – what you liked, didn't like, and why. What do you think is necessary for a satisfying life? Thank you in advance for participating. But don't limit your conversations to hear, share it with other people you know.
If you do enjoy the book, another huge way you could help is to share this page by clicking on any of the social network icons below: