U.S. gymnast Gabby Douglas has captured the hearts of millions of people  with her high flying routines, intense focus, and huge smiles. Yesterday she made history as the first African American gold medalist in gymnastics.  In these moments when the entire world is looking at her, she has consistently pointed to another.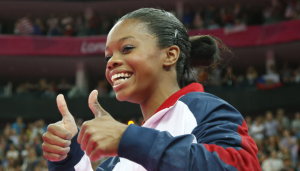 Throughout her journey in these 2012 games, Gabby has displayed an honest and sincere faith in Jesus Christ.  When asked how she handles the pressure, she shared her "secret" was meditating on verses from the Bible.  Before competing for the all-around gold, she tweeted "Let all that I am praise the LORD; may I never forget the good things he does for me." She describes herself on Twitter, saying "[I] Love my family, dogs & most importantly God."
The last 2 years of Gabby's life have been full of sacrifice.  She moved far from her family in Virginia in order to train with top coach Liang Chow in Iowa.  She's endured the stress of her father serving significant time in Afghanistan as an Air Force sergeant.  Now as the "Queen" of gymnastics, all the hard work and sacrifice has paid off.
Undoubtedly America will get to know Gabby Douglas better in the ensuing weeks.  There will be plenty of interviews and articles to shine light on this beautiful story of a sixteen year-old champion.  Gabby will be a role model to millions of young aspiring athletes, and especially African American girls.
As the father of a beautiful African American 4 year-old girl (who happens to be an amazing gymnast), it brings me great joy to watch her put on her leotard and pretend to be Gabby.  Not just because Gabby's a stud athlete, but because she is a young woman of integrity and faith.
In the first interview after winning gold, Gabby gave all the glory to God.  She described her success well- "It's a win-win. The glory goes up to Him and the blessings fall down on me." Thank you Gabby, for not only making our country proud, but for shining  brightly for God.  And by the way, pictured above is my daughter Amyra, who stayed up way past her bedtime to cheer you on to victory.  Thanks for the memory! #LiveFully