This is a guest post from Erin Burchik. Erin directs local and international outreach for Grace-Snellville Church outside of Atlanta, Georgia. She's also Brian's wife (which is a whole different challenge).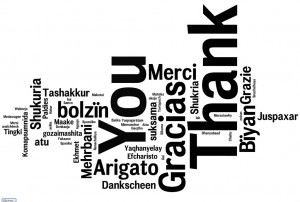 In a moment of potential chaos, Jesus had two options.
There were over 5,000 people gathered, hungry, and looking to him for food. He could have chosen to look at them and figure out how to throw a colossal meal together. He could have focused on what the next step was to get food, what would make the most sense in light of the huge need in front of him.
One of his disciples brought him the lunch of a little boy. In that moment, Jesus did something radical. Something that did not make sense. He chose to thank God for the little he held in his hands. In doing that, something miraculous happened. What Jesus gave thanks for began to multiply.
In choosing to focus on the (small) gift in his hands, thousands of people were exposed to God's loving heart for them. They saw that God cared about them. They saw that giving thanks to God, even for small gifts, created miraculous, awe-inspiring provision.
This Thanksgiving season, rather than focusing on the stressful aspects of our lives or looking towards the next season too early, let's live fully in this season. Let's practice radical thanksgiving – even for small things. And I think God will help us see the awe-inspiring moments all around us – even miracles. Here's 7 practical ways to cultivate this gratitude.
7 Ways to #LiveFully in this Thanksgiving Season:
1. Start counting those gifts! Ann Voskamp (the "Mother of Thankfulness" and the person I've learned so much about thankfulness from) says to count those gifts – all the way up to 1000. Did you know that practicing gratitude can increase happiness by 25%? So get those journals out and start at #1.
2. Try to write three meaningful thank you notes (or emails) from now until Thanksgiving. Let people know what they've meant to you! Here are 7 free printable thank you cards for you to use – no excuses!
3. Read Psalm 100 and 111 and take time to thank God for all he's done in your life. Here is a beautiful FREE print of Psalm 100. Print it out and put it somewhere in your home or give it someone who needs this reminder this season.
4. Think you have nothing to be thankful for? Watch this clip starting at 2:10. It's inspiring (even though its a little fuzzy). A man with no arms and no legs who knows how to #LiveFully! POWERFUL! Be thankful for everything in your life.
5. This is what we're doing at our house this Thanksgiving season. You or your kids cut these printable leaves out, attach them to some branches, and voila! A thanksgiving tree! We're doing one a day here, writing someone or something we're thankful for on the back, and watching gratitude being cultivated in our daughter.
6. After your done reading this, close your eyes and ask yourself, "Who is the one person I need to say thanks to?" Your mom for putting up with you as a rebellious teenager? Your grandpa who sacrificed for your family? A friend you haven't seen in a while? Don't think – just call them! Say the thank you you've been meaning to say but can't seem to get around to.
7. This holiday season when you feel stress or chaos starting to creep in – STOP! Like Jesus, take a moment and thank God. Then watch as the chaos and stress come into perspective and a miracle happens – your heart changes!
–What are you grateful for this year? How has gratitude and thanksgiving changed your perspective? 
Share what you're grateful for in the comments below. We'd love to celebrate along with you.