This was the first year of officially declaring October 10th as #LiveFully day. And it was also the first time we've ever tried to use Instagram as a means for people to "submit" videos for a contest.
In many ways it was an experiment, and I'm real encouraged by the participation and videos that were shared to celebrate the full life of Jesus.
Before announcing the winner, I wanted to share a few of my personal favorites:
            Best Rap             Most Creative             Best Action             Cutest         Best Ending 
Although there were some really great videos, at the end of the day, a winner has to be chosen for the huge prize money. (Well, maybe not huge, but something.)
So, in this inaugural #LiveFully celebration, the winner of the Instagram video contest is…
Karen Reynolds from Lilburn, Georgia! (Instagram: wrenreynolds)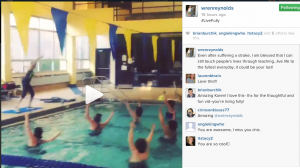 Here's why we chose Karen's video as the winner:
1. It captures her everyday passion of teaching fitness training to others
2. Her caption shed beautiful light on her own personal journey of living fully

3. She dives into the pool in her clothes (c'mon that's just fun!)
4. And lastly, this was actually her first post ever on Instagram. Not a bad way to start.
Congratulations Karen! And thanks to everybody that participated. I can't wait to build off this for next year's 10-10 celebration.