If you have been alive the last few years, then you've at least heard of Justin Bieber.  This pop singer is the most famous 18 year old on the planet, and one of the richest as well, with a net worth well over 100 million dollars.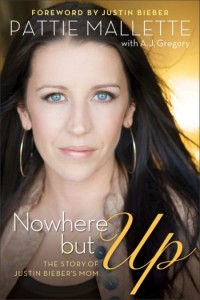 But more impressive than his career and bank account is the character and maturity Justin has displayed through his acceleration into stardom.  It's said "behind every great man stands a great woman."
Behind this pop icon stands his mother, Pattie Mallette.  She's not tall in stature (just 4 feet 8 inches) but as a woman and  mother she's making a giant impact.
In the new book Nowhere but Up
 Pattie shares her spiritual journey out of depression (which included a failed suicide attempt) and into an authentic relationship with Jesus.  This  changed everything in her life.
This recent interview with Access Hollywood includes how her relationship with God began as well as how it changed her perspective on sexuality and relationships.
While we might be tempted to think having a rich and famous son brings life fulfillment, this incredible woman is proof that the full life can only through relationship with Christ. Although her depression happened before Justin's fame, even today, she still clings to her ultimate hope of Jesus.
Keep shining for God Pattie, your life and story is making a huge difference and advancing God's Kingdom! #LiveFully
Follow her on Twitter: @PattieMallette
Check out her book on Amazon: Nowhere but Up