They say that no one in today's world watches videos that are over 2 minutes.  That's not true (i.e. Kony 2012- 30 minutes long and over 92 million views), and I am going to highly encourage you to check out today's featured story (that's only 9 minutes). Take time to hear the story of Peace of Thread, I assure you it's worth it.
My wife Erin, along with teams of committed students and adults, have spent the last several years investing in Clarkston, Georgia, which is home to refugee families from all over the world. At one point it literally contained the most diverse square mile in America.
Peace of Thread is a stunning fruit of these efforts. As a local, not-for-profit organization, Peace of Thread empowers women who have come to the United States seeking refuge from war, persecution & poverty to make a new life for themselves and their families.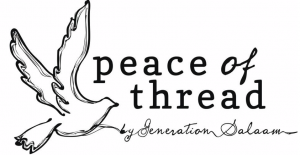 You can connect with Peace of Thread on Facebook. Even better, check out their hand-made, high quality and one-of-a-kind accessories in the Peace of Thread Store.