This is a guest post from Erin Burchik. Erin directs local and international outreach for Grace-Snellville Church outside of Atlanta, Georgia. She's also Brian's wife (which is a whole different challenge).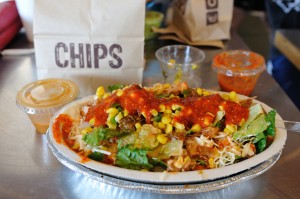 For New Year's Day lunch, I wanted to do something really delicious. So, naturally, when I thought of delicious I thought of Chipotle. And then I thought about their burrito bowls. And then I started cooking.
As I was getting started on the food our 5-year-old Amyra and her little friend asked, "Can we help?"
I looked at the rice simmering and the chicken cooking and realized being eye level with a gas stove would not be the most beneficial way for them to help. So I told the two little ones that I would get everything ready and then they could assemble everyone's burrito bowl.
So I prepared the different components, lined them up, showed them what to do and then let them loose. It was precious the way they debated over how to arrange the rice, beans, avocado, chicken, and cheese. They saw the bowls as their canvas and they were making a work of art.
As we sat down to eat, the girls watched our faces as Brian and I enjoyed their masterpieces. While I took so much delight in setting these two little ones up for success, guiding them along the way, and encouraging them as we ate – something dawned on me. They loved helping and being included. They loved coming alongside me to do something as simple as making lunch.
Granted, I am the one who went to the store, stood over the hot stove, and then showed them how to make the burrito bowls. But I found a way for them to be involved and it brought them and me so much joy.
I want to go into 2014 with this perspective in how I relate to God in the things I do. I want to recognize that he is the one who does the hard stuff that I can't do: provides, supernaturally brings things together, opens doors, closes doors, creates, and guides things. But I just want to help. I want to help bring things together in the way he leads me and to just be a small part of the finishing touches. He is already at work but I want to come alongside him in what he is doing.
But Jesus replied, "My Father is always working, and so am I." (John 5:17)
At #LiveFully, we talk a lot about wanting to be a part of God transforming every area of our lives so that as followers of Jesus we can impact every area of culture. In order to do this, we must recognize that God is working and then ask him the simple question, "Can we help?"
He is the one who can bring about another renaissance in the arts, reformation in education, impact in governments, and a spiritual rebirth in the lives of people. And yet he invites us into the process. He  provides and we get to bring a few pieces together. He does opens doors and invites us to walk through them. He is at work and we get to come alongside him. And in doing so we get to experience the most full life imaginable. Not to mention, it brings the heart of God so much joy.
So as 2014 begins, let's keep this in mind:
Unless the LORD builds the house, those who build it labor in vain. Unless the LORD watches over the city, the watchman stays awake in vain. (Psalm 127)
As God builds things in your community, your school, your workplace, your family, may you come alongside him and see how you can help. #LiveFully