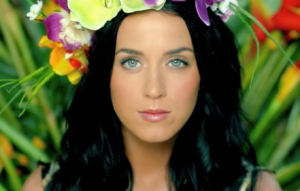 As I was pulling into my driveway yesterday after a long day of work, the radio station I was listening to began to feature a brief interview with Katy Perry. She was talking about her favorite song on her new album "Prism".
The song is entitled "Unconditionally," and she shared that it speaks of a love that's greater than just the "romantic" kind most often depicted in pop songs.
I must say, her small bit got me curious to hear it, so rather than turning the car off to go inside, I decided to just sit and listen. And I'm glad that I did. Like mentioned in the interview, her newest song does describe a love that transcends the emotional infatuation, or worse, the objectifying lust, of most pop hits.
In fact, I would go as far to say that Perry's newest song is a powerful depiction of the very heart of God as revealed in the Bible and through the life of Jesus. As I listened, I could not help but hear the direct parallels between Perry's lyrics and the message of the gospel. It made me immediately think of Jesus' well-known parable of the prodigal son in the New Testament. (Luke 15:11-32)
So come just as you are to me
Don't need apologies
Know that you are all worthy
I'll take your bad days with your good
Walk through the storm I would
I do it all because I love you
I love you
I'm not saying that it was Perry's intention to create a song that communicates God's gracious heart. I don't know what ultimately compelled the lyrics. But regardless of the artist's intentions, there's no denying the powerful description of unconditional love. The Bible states,"There is no fear in love. But perfect love drives out fear, because fear has to do with punishment." (1 John 4:18) Perry's song echoes the same notion..
I will love you unconditionally
There is no fear now
Let go and just be free
I will love you unconditionally
The Bible makes it plain that there's nothing anyone can do to earn God's love – that would make it conditional to our own efforts or personal piety. God's love is unconditional, displayed most clearly through the mission of Jesus.
This is love: not that we loved God, but that he loved us and sent his Son as an atoning sacrifice for our sins.      (1 Jn 4:10)
We love because he first loved us. (1 Jn 4:19)
It begins and ends with learning how to receive and accept God's unconditional love. Only then can we begin loving others in a similar way. We can choose to close ourselves off from this love, or, like the prodigal son, we can return home and experience the unconditional love of God – the grace that every human soul longs for.
Appropriately, Perry's song ends with a call to the openness required to receive this kind of love.
So open up your heart and just let it begin
Open up your heart and just let it begin
Open up your heart and just let it begin
Open up your heart
Acceptance is the key to be
To be truly free
-In what other mainstream art or entertainment have you seen glimpses of God's heart for humanity? Would love to hear about it in the comments below.