God has given all of us unique skills and talents, and part of living fully is offering those gifts to be a blessing in the world.
Today we're excited to celebrate one of our #LiveFully friends for his work as a filmmaker. Kyle Sklenar recently won the Best Picture award at the Campus Movie Festival at Georgia State University. Kyle's film, "The Love Note," beat out 250 other films, which is an incredible feat, especially since he is only a freshman in college.
We wanted our readers to hear from Kyle about this creative effort and how his faith inspires him along the way as an artist. Enjoy the interview, and if you haven't seen the video yet, watch it first (spoiler alert).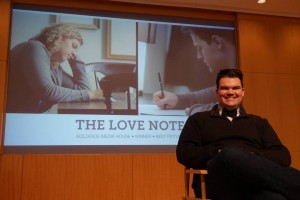 -How did you come up with the idea for the story told in your film?
It was over Christmas break. I saw an engagement video where the future groom spoke a few words to his fiance. His words captured me, and I knew I wanted to use this concept in a film. However, I also knew there needed to be a hook. There needed to be something gripping. At one point while writing, September 11 dawned upon me. I struggled with using it, because I did not want it to seem like a ploy to get super emotional. I finally decided to use it, because it's such an important part of our history.
-What was the biggest barrier you faced in creating your film?
I hit so many barriers. Looking back at it, most of them were self-induced. The festival crept up on me, so I had to do a lot of the planning only a week before the shooting day. It'd be a lie if I said it was just a coincidence that everything worked out so perfectly. The Lord provided actors (and incredible ones at that!) as well as locations (I had two different apartments in the same complex, and both groups of people were gone that weekend), and every time I asked people on Facebook about getting props, I got so many responses.
-As the film festival approached, how confident did you feel about your short film? Did you expect to win?
Once the project was finished I watched it a few times, and thought it was absolutely terrible. I thought stuff was messed up with the audio, and shots didn't look good. I thought it was so bad, I didn't show it to anyone. A month later at the awards night, I had very low expectations.
When The Love Note started to play, the reaction was priceless. Everyone gasped when they should, and cheered when I hoped they would. It was perfect! Then came the awards. I thought that I may have a chance for best drama, and I did. The film was nominated along with 2 others for best drama. Unfortunately, I didn't win.
I thought that was my only chance, so my heart finally stopped racing, and I just sat back to enjoy the rest of the evening. I was slightly bummed I didn't win anything. But then, there came the final prize. This was the big one. The mother load – BEST PICTURE. I was just sitting there, not anticipating anything because I assumed that you couldn't be nominated for two things. And boom. I won. Just like that. It was one of the most fantastic experiences ever.
-How did you experience God in the creation of "The Love Note"?
The Lord used this win to affirm in me the things that He has put in me. For a long time, I've doubted my ability to make narrative films. This festival showed me that random film industry representatives saw my film, and thought it was the best of 250 others. That means that the Lord was right about my ability to make good narrative films.
-Why is it not necessary to entertain with the dirty humor or blatantly sexual content to still make a good movie?
I would say a major part of seeking God's Kingdom in my filmmaking would be to create morally upright content. I don't think sex or extreme language are ever necessary for a good film. Stories can be told without the F-word showing up every minute. Overly sexual content is a cheap way to get people to come see the film. This might seem strange, but I actually think people are starting to become tired of everything being infused with sex or sex-related ploys. I hope to push it back over the edge to a side of higher morals and purity. I strive to turn heads by the quality of my films, not using sex as a cheap tactic.
We are so proud of Kyle and the way that he is continuing to grow in his craft as a filmmaker. This June, "The Love Note" will compete at the national film festival in Hollywood. To learn more about Kyle's trip and how to support just click here.
Here's how you can stay connected to Kyle:
Website: kylesklenar.com
Twitter: @kylesklenar
Instagram: @kylesklenar