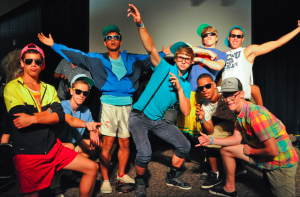 I (Brian) am a youth pastor to hundreds of amazing students in the suburbs of Atlanta, Georgia.  Our student community lives out this post. Although written specifically to other youth pastors, I think anyone interested in following Jesus can find it helpful.
Let's be honest, the role of youth pastor is a tough gig. Coming from one side is  pressure to increase the size of your ministry, and pushing in from another is the expectation of your students to be a ministry that is "awesome," "fun," and worthy of their time. It's no wonder so few leaders last more than a year in the same church.
In an effort to overcome the pressure, many youth pastors spend hours trying to plan and produce fun events to attract students. More times than not, the focus of these events is evangelism, hoping that while non-Christian students are drawn inside the church building, they might also be drawn to receive Christ. The mindset becomes "I'll create a fun atmosphere so lost students will want to attend, hear the Gospel, and hopefully put their faith in Jesus."
As a youth pastor for the last five and a half years, I have come to understand that my primary job is NOT to create attractive environments for non-Christian students. Yet, I'm more convinced than ever that our youth events should be incredibly attractive, dare I say the most attractive places for students to spend their time. What's the big difference? Discipleship.
Jesus calls us to make disciples. First and foremost this is our pursuit.  It starts with a fundamental shift in perspective.  The top priority at our church  is discipling followers of Jesus and growing the local family of God.
The purpose of this short article is not to flesh out all the implications of this call to discipleship in youth ministry, as if one article could ever do that!  I do, however, want to describe it in terms of creative event planning. Discipleship in this area means that we don't do fun things just so students "in the world" can feel comfortable and be attracted to our churches.  This should be a by product, but discipleship means we create attractive events because God is the author of joy, and the One that gives abundance of life to his people.
As his followers, filled with his very creative Spirit, it only makes sense that our gatherings should be fun, attractive spaces to celebrate God and life together.  Our relationships should be the richest, and our joy the grandest.  God's people should be having the best parties!
For too long, the concept of "partying" has been hijacked by the world, associated with getting drunk, using drugs, and chasing sexual experiences. The time has come for Christians to recover confidence that following Jesus is the best way to live.
As youth pastors, we have a key role in this recovery. First of all, we need to examine whether or not we really believe life with God is the best. If we as leaders don't carry this conviction, it will certainly not infiltrate the group. Secondly, we must challenge our students to get creative by modeling it in how we plan and execute our own gatherings and events.  We need to work hard to create rich experiences that cultivate community and celebration as God's family.
Do we want non-Christians to join us? Absolutely, and we should challenge our students to invite their friends who do not follow Christ to attend. But in having incredible fun together, we are not just borrowing from "the world." Our students need to know that we don't just do fun things to get their lost friends to attend.  Instead, we believe it's woven into our call as God's family to be the most joyful, creative people on the planet.
God is the source of the greatest fun and creativity, so let's lead with that conviction and be the best partiers on the planet (in the truest sense of the word). #LiveFully