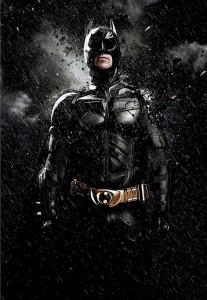 The Dark Knight Rises, one of the biggest movies of the year, opens today in the US. Since I live in New Zealand, however, where we're 16 hours ahead, I already saw the movie!
First things first: The film is great and will certainly be talked about by audiences around the world. The great thing about this Batman franchise is the depth of plot and theme. These movies are not merely popcorn flicks. They have great action, but are rich in story.
If you plan on seeing the movie, you may not want to read on until afterwards. I'll try not to spoil anything that wasn't already in the actual movie preview, but sometimes it is better to go in without any hints. If you decide to wait, just make sure to come back after seeing it and share your thoughts. I'll leave it up to you if you want to continue reading…
In the trailer, we see Catwoman tell Batman, "you don't owe these people anymore. You've already given them everything."
Batman responds by saying, "Not everything, not yet."
This statement clearly hints that Batman may have to literally give everything to save Gotham. In other words, bringing peace to the city could cost him his life.
This theme resonates with everyone. "Greater love has no one than this, that someone lay down his life for his friends." We make heroes out of the people who give their lives to save others, but why do we do that? If our world is molded by survival of the fittest, should we not consider those who sacrifice as fools?
And yet, we don't. We know there is something special about that kind of love.
The explanation is simple: we were made in the image of God. We were created to know love and be loved. And though we can be broken, cynical, and sinful creatures, something deep within our being jumps at the mere thought of love.
I can think of two things we must do in response to Christ's ultimate sacrifice. The first is to run to him and honor him. He gave more than anyone before or after him has ever given, and he has more than earned our worship.
The second thing we must do is love others. When we have been loved in such a way, it is only right to respond with love. Hopefully, none of us will actually have to die to save a loved one. I used to ask myself, "if the time came, could I make that sacrifice?" That seemed like a difficult question to answer, but I've realized there is a much better question to ask.
If I will not give someone a piece of my time to serve them or encourage them, how can I expect to give my life for them? If I cannot feed the hungry a bit of food, how can I expect to make the ultimate sacrifice?
Many problems in The Dark Knight Rises occur because of the greed and selfishness of the people who had the power to help. If you want to love someone, then do something. Don't wait until you have to give your life. Most people don't need you to die for them. They just need you to listen to their story, encourage them, and help them get through life.
What Makes a Hero?
Towards the end of the film, Batman says to the police commissioner, "A hero can be anyone. Even a man doing something as simple and reassuring as putting a coat around a little boy's shoulders to let him know that the world hadn't ended." This event happened to Batman as a boy, and it gave him hope to press on and bring about great change.
There are incredible acts of heroism, and these should be celebrated. But more often than not, God uses ordinary people living in ordinary circumstances to change the world because they showed extraordinary kindness, compassion, and love.
#LiveFully
What can you do today to be a hero? And, what did you think of The Dark Knight Rises?
*This post was written before the horrible shootings in Colorado during this film. In light of that event, and the thousands of others like it throughout history, we should take the call to love others and show extraordinary kindness even more seriously. Our prayers go out to those who lost loved ones, and we hope that this post encourages you to impact the world positively.