I'm not going to pretend to be the American Idol expert. I've never watched it consistently. However, there's no denying the talent it has produced, with music stars like Kelly Clarkston, Carrie Underwood, Jordan Sparks, and most recently Philip Phillips (yes, the song you've heard on 18 commercials, 9 sitcoms, and the summer Olympics).
I don't know much about this Idol season, but one thing I do know.  You must watch eighteen year-old Angie Miller's recent performance of her own song "You Set Me Free." Blown away, the judges responded by giving a standing ovation. Mariah Carey and Keith Urban seemed to be on the verge of tears. When you watch for yourself, you see exactly why.
The power of her voice matched with the raw lyrics are overwhelming. This freedom she sings about comes from deep, personal experience. The profundity of the song impacts the listener in a way that is hard to explain (evidenced by the judges responses afterward).
This is the power of art at its finest. When people use their God-given gifts to create art that is good, beautiful, and true, it draws us away from our normal existence. I believe it has the power to draw us toward God, the Creator of all that is good, beautiful, and true.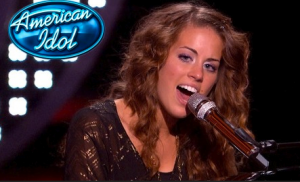 I don't want to read more into the life of Angie Miller than is available, but simple glances at her own social media sites provide a window into what motivates her music.  Her Twitter profile reads, "Through music I aim to show that loving God and being a good influence to others is my goal!!" On Instagram, she states, "Love God, Others, Music, and Dream Big." It is obvious that God is the one that has set her free, in a way no mere human being ever could.
Judging by this video alone, I know we will see a lot more of her in the future.  We pray for more and more artists to rise and shine for God, creating art that will inspire full life in goodness, beauty, and truth. #LiveFully